Simplify Your Life with VERFID
VERFID is going to CHANGE THE GAME. I couldn't wait to learn more about them and be a part of it! Don't you hate when you bring your dog somewhere and they ask for all of their records and important information? You have to search and search for them. ALL OF THAT CAN BE OVER!
VERFID has the following information on a tag that can go right on their collar:
*information taken from their website*

Animal Information (Name, type, breed, weight, age, photograph, etc.)
Vaccination Records
Veterinary Notes and Health Certificates
Special Considerations (Animal allergies, medications, etc.)
Behavior Agreement
Owner Information (Name, contact information, etc.)
Health Care Provider Notes (for owners with Emotional Support Animals)
Dawson is an emotional support animal so having this tag with all of the information makes me so relieved. How convenient to have all this information right on your dog.

VERFID will be best for pets who are emotional support animals, comfort animals, service animals and assistance animals.

The process was so easy, I purchased the tag (for $35 and that includes the account creation, RFID smart tag, shipping and taxes) and got to creating his account. They have an app that's available both for iOS and Android – it is gorgeous too! The app is used to scan the tag and it pulls up all of the information listed above.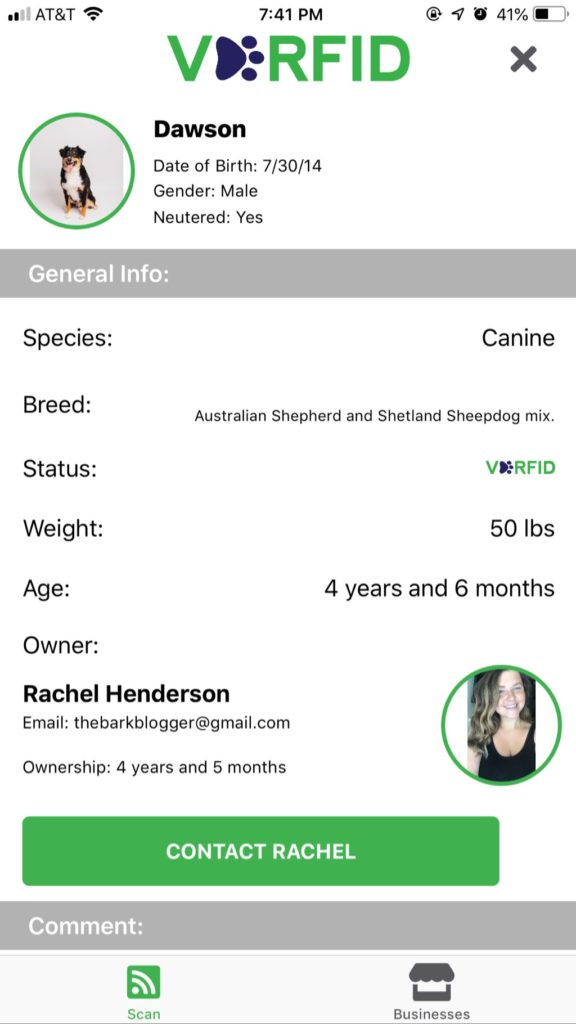 This is great for businesses too because they can choose the requirements that best fit their business. To find out more about signing your business up, go here.

---
---